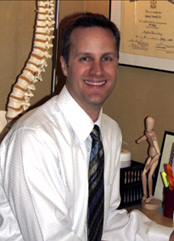 Graduating Summa Cum Laude, Cleveland Chiropractic College in Los Angeles, CA., Dr Carroll has studied extensively to learn alternative healing techniques. He continues to attend educational workshops and seminars helping each patient with their individual needs.

In addition to chiropractic care, his post-graduate training includes, Applied Kinesiology and Total Body Modification, Neuro Emotional Technique and Sacro-Occipital Technique.

Along with the implementation of Clinical Nutrition and Functional Medicine, these techniques are utilized to help ascertain the cause of each patient's health challenges and help the body's own natural healing systems attain functional well-being.